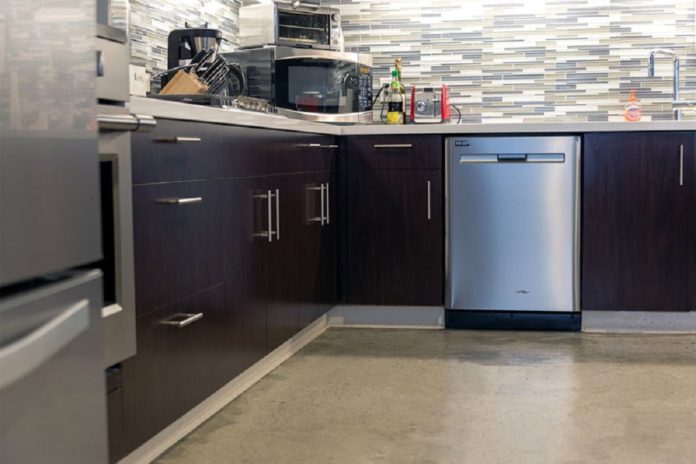 The kitchen is notoriously famous for being one of the most wasteful areas in the house, along with the bathroom. The constant use of appliances that use vast amounts of energy and water resources has prompt homeowners to look for, and manufacturers to produce, efficient, smart, and eco-friendly appliances that will facilitate long-term savings and efficiency across the board.
One of the most inefficient appliances is, of course, the dishwasher, or at least it used to be up until the creation of contemporary models specifically designed to conserve resources and be as versatile as possible. Here's what makes a truly contemporary dishwasher and how you can choose the perfect model for your needs.
Choose the right size and capacity
There are three basic types of dishwasher you should be on the lookout for depending on your living conditions as well as your plans for the future: the 24-inch built in, the compact 18-inch built in and the portable model.
The most common dishwasher type is the 24-inch built-in model that can easily fit underneath the kitchen counter. This model is great for family houses that need plenty of cleaning power on a regular basis, and it can boast between ten and sixteen place settings, available in standard and tall tub configurations. These models also boast the highest number of selectable features and options.
The compact 18-inch built in dishwasher is an ideal solution for smaller, apartment kitchens and can easily serve one to two tenants on a regular basis. The 18-inch model is considerably smaller and thus offers fewer features and options along with decreased capacity, but is nonetheless an extremely useful appliance.
Finally, the portable dishwasher comes in both 18-inch and 24-inch configurations, and it can be stored out of the way when not in use. When you do opt to use it, you can simply connect it to the kitchen faucet. The portable model, although usually basic without the numerous features of a standard one, can also come in a convertible configuration, allowing you to switch to an under-counter model.
Make sure its energy efficient
In the modern world, energy efficiency is of the utmost importance in preserving the environment and conserving natural resources, thus in turn helping you make substantial long-term financial savings on an annual level. Therefore, you need to look for contemporary models, like the ones from the new line of Maytag dishwashers, which are both Energy Star and NSF Certified, indicating that they are eco-friendly and efficient.
Likewise, you want your dishwasher to have a delay-start feature making it easily programmable to work only in non-peak hours. Make sure that it also boasts sensor technology and a rapid wash cycle option for added energy and water efficiency.
Look for additional features
Some of the key features you should look for in a contemporary dishwasher are specialty cycles, quiet operation, sensor technologies, adjustable racks, hidden controls, stainless steel tubs, delay start, filters and food disposals, and a heat booster.
Specialty cycles are great at completing delicate tasks such as handling china and hand-wash items, but they should also have tough scrubbing cycles aimed at cleaning those persistent spots, while a quick wash cycle is always nifty for cleaning the dishes a little bit faster.
Quiet operation is one of the key features of a modern dishwasher, allowing you to focus on your daily chores without feeling as if you're in the middle of a warzone. Sensor technologies, on the other hand, are useful at monitoring the soil and temperature of the water in order to provide the perfect amount of cleaning power for a perfect washing cycle.
Contemporary dishwashers are all about convenience, versatility, and comfort. Through these modern features, they are not only able to provide a deep and thorough wash, but they are also resource-efficient and provide a solid base for long-term financial savings as well.