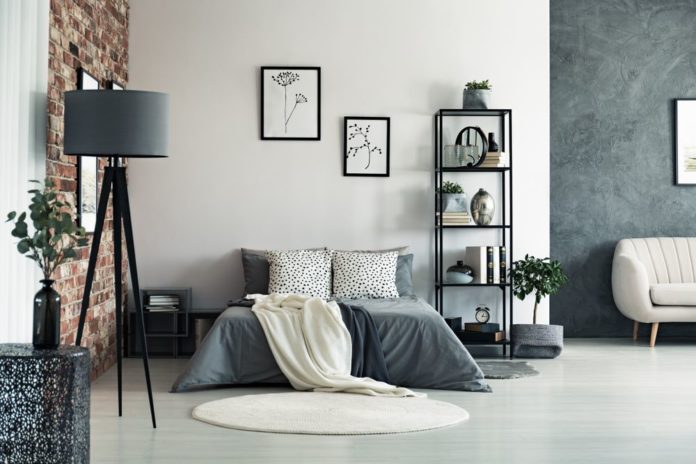 Nothing beats the feeling of going home to a bedroom that expresses your favorite colors, feelings, and collection – a sanctuary and a personal gateway.  A bedroom should be a place of quiet amidst a hectic day, a place to unwind or even a room to just chill and watch the movie you have been dying to see or even catching up with the world news. For most people, a bedroom is the most comfortable and a calming place to rest a tired body after the busy hustle of a long day.
Amazingly, many of us do not know how to decorate a bedroom. Many times, a bedroom becomes a stockpile of our leftovers. Sometimes we pour our attention to our living rooms or kitchens, places where we receive guests and neglect the room where we spend more than one-third of our lives.
Here, you will find creative ways to redecorate your bedroom along with amazing easy tips on how to decorate a lovely bedroom with a style perfect for your modern house plans.
Decide your colors
If you are a morning person, try picking a lighter color for your bedroom. If you are a night person, on the other hand, choose a darker and more sophisticated color palette which you can enjoy.
If you like to add more color but prefer neutral walls or does not know how to paint the walls, you can always use a painted piece of furniture, or a creative and colorful wallpaper to add interest and emphasis in your bedroom.
Adding colors to your bedding and fabric is also a good idea for rich and vibrant colored curtains. The upholstered headboard is also great when added with color and texture to a room.
Re-do your walls
Add more personality to your space by creating a gallery wall with your favorite paintings, matching photography, creative quotes or sayings, and other wall decors that brings out the uniqueness in you. You can also apply wallpaper to accentuate the corners to add more focal points.
Lighting
Lighting is a very important element to consider in a bedroom. It's fine to have overhead lighting, also don't forget to add a bedside lamp and other lighting fancy specifics. If you are a person that reads in bed or always puts on makeup in your bedroom mirror, specific lighting in those areas will suit your bedroom lighting needs.
Furnishings and Decor
Adding fancy throw pillows and blankets is not necessary but it certainly puts vibrant to your room if you have them.  Consider adding a rug for comfort and warmth if your floor is made up of hardwood.
Choose quality mattress and sheet
Don't try to go cheap when choosing your mattress, pillows or sheets. You need to pay more attention to these items as this helps you get a good night's rest and save you from having a neck and back pain, headaches and more. You wrap your sheet to your body for 8 hours daily, so always look for high quality.  Choose a high-quality mattress with supportive pillows that make your rest and sleep a delightful experience.
Clear the clutter
Get rid of the bedroom clutters or anything that isn't supposed to be in your room. Having a tidy and organized room adds to a more conducive relaxation or romance. Tidying up your room includes putting your TV aside as research shows that having TV hinders a relaxing slumber. So to say the least, remove any stress-inducing clutter in a stylish box or container.
Hang a mirror
Yes, you read it right. Mirrors can make any room look spacious by reflecting light. A room can look bigger by putting a mirror on the headboard or leaned up against the wall. Hanging a  mirror can make a small room appear large.
Furniture or Furnishings
Too much furniture or furnishings that crops ups your bedroom space are one of the common problems in most bedrooms. Allow your room to have enough room to breathe by carefully selecting bedroom furniture that suits the scale of your room, you can also declutter to free some space.
Get a clothing storage
Now, this should be considered. If your room needs extra hanging space, or you need more room for folded clothes, then provide adequate clothing storage. Clothing storage is even perfect for organizing your shoes and clothes.
THE FINAL TOUCH
And for the finishing touches, buying small décor and artwork is done at the end of the decorating process. Accessories complement your space but o does not overdo it. Oftentimes, one beautiful painting or a perfect small photo atop a dresser is all you need to add a finishing touch to a bedroom.