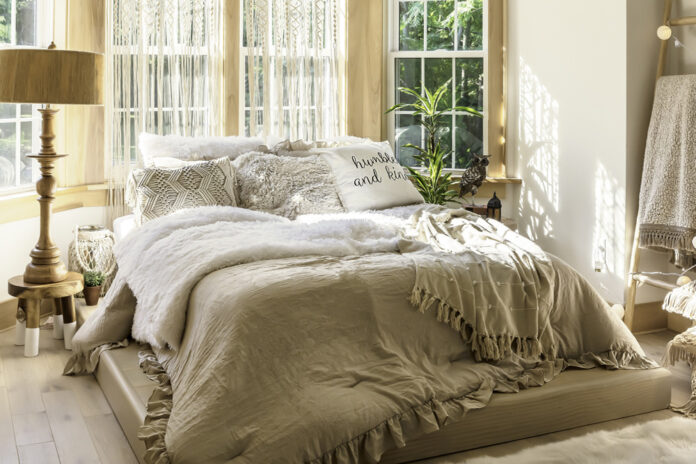 A boho-style bedroom is all about creativity, comfort, and calm relaxation. At the end of the day, it's important for you to have a space where you can catch up on your R&R. If you're looking to create a dreamy boho bedroom, these tips will help you get started.
What Is Boho Style?
Before getting into the design tips, you must understand the key features of this design style. Boho or Bohemian style is all about creating a space that's an ode to your personality and your lifestyle. It's a relaxed, comfortable and free-spirited look that lets you express yourself in your home.
There are five essential components to any dreamy boho bedroom:
A striking color palette: Think earth tones, natural materials and muted colors for a more calming and relaxing space or bright pinks, silvers and metallic colors if a glamorous bedroom design is more your style.
Lots of textures: Mix different materials like bamboo, rattan, wicker, cotton, linen and wool for a cozy and layered look.
Natural elements: Bring the outdoors in with plants and flowers.
Artistic touches: Add in some fancy lighting, macrame wall hanging, or even a gallery wall.
Items representing you: Put your own stamp on the space with art, photos, and treasures that truly speak to you and/or your culture.
A Striking Color Palette
What colors speak to you? Do you love more sophisticated and muted colors like natural browns, greens, mustard yellows, grays and beiges – or are you bolder and more glamorous with an eye for pinks, blues, silvers, golds, and bright yellows? Whichever you prefer, it's important that you decide on a color palette of one or two featured colors and two to three more accent colors to mix in strategically. Too many feature colors will steal focus and make your bedroom look cluttered and messy, rather than stylish and cozy.
Everything you add to your bedroom will have color choices, from your flooring up to your ceiling and everything in between. Start by putting together a mood board of the rug, comforter set, paint color, and furniture you're considering. The idea is to see how the colors of these larger items fit together before making any purchases or further design decisions.
If you like how it has come together, then make the purchases and see how they work together in your space with your lighting. If you don't like how it looks in the mood board, make the necessary adjustments to find the right colors that work together. Keep in mind, the smaller items like window treatments, lamps, and decorative pillows will fill in the space with even more color.
Textures Everywhere
Textiles are a key part of any boho bedroom, and it's important to select fabrics that will create the right atmosphere. The right textures will create the right feel for your cozy and relaxing bedroom. A faux fur rug will feel great on your feet when you first wake up.
A breathable Belgian Linen sheet set and comforter will keep you cozy and help regulate your temperature throughout the night. Plush throw blankets and tufted decorative pillows add more cozy layers for your bed and bedroom seating.
Speaking of seating, a leather or rattan chair is a great way to bring in another natural element (more on that below). A wicker storage basket and macrame textured cotton curtains are more fabulous ways to bring new textures into the space.
Natural Elements, Especially Plants
If you're looking on Instagram or Pinterest at boho style bedrooms for inspiration, one thing you'll see consistently is fresh foliage. Live plants and flowers instantly bring life to your bedroom and make it feel homier. They'll be the perfect accents to tie the rest of your boho decor together!
A boho bedroom is never complete without plants. Plants not only add a breath of fresh air to your bedroom, but they also bring an abundance of health benefits. Plants have been shown to improve air quality, improve your mood and can even help people relax into a better sleep. Add a few potted plants to your dressers and nightstands, or hang some macramé planters on from your ceiling.
Not sure which plants to choose? You really can't go wrong with bamboo palms or pothos plants—both varieties take little maintenance and thrive in almost any environment. If you want something even more low-maintenance than that, try a succulent or cactus species like Aloe vera (which is also known for its skin healing properties).
Remember to remove any plants that have died, as they will no longer provide any benefits and will bring down the look of your space. Try again with the same plant if you feel confident, or replace them with a different plant you may have better luck with.
Artistic Touches
When you begin decorating your boho bedroom, you should seek out artistic items that enhance the space. It could be something as simple as a fancy lamp shade on your bedside table, or a unique tapestry hung on the wall, even an antique vase. Or you could go a little bigger with or a gallery wall of mirrors, or photos from your travels. You could purchase a commissioned piece of art. Truly, you have endless opportunities to add something artistic to your bedroom.
If you enjoy the more glamorous boho style and have the budget for it, opt for a stunning chandelier rather than a ceiling fan or basic floor lamps.
Everything Should Represent You
Your boho bedroom should be a representation of exactly who you are and what you love. Textiles, flooring, art, lighting, furniture—all of these items should give your room a story and evoke feelings of nostalgia. For example, you could display an old tapestry or quilt that's been handed down to you by your grandmother. Or you could shop for something new with a global influence that represents your love for travel and experiencing new cultures.
Conclusion
With these five fundamentals of a boho design, you can decorate the bedroom you've been dreaming about. Remember that plants are key, everything should represent you in some way, and be sure to incorporate plenty of texture with different fabrics and materials.
AUTHOR BIO:
Kim Foerst is the digital marketing manager for Lush Decor, the flagship brand of Triangle Home Fashions. She loves to write about home decor and interior design and enjoys redecorating her home every chance she gets.