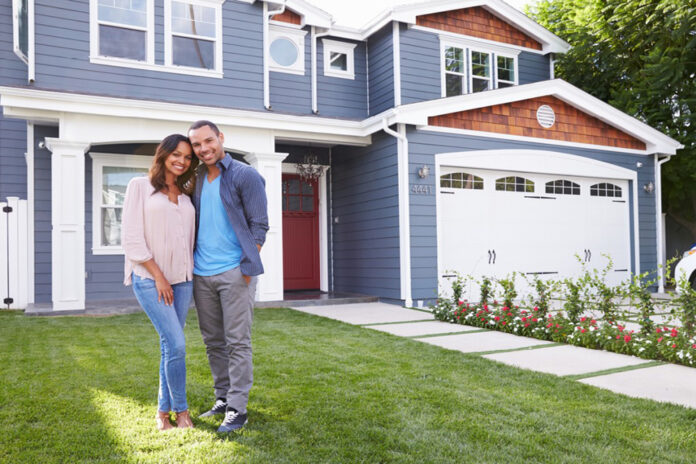 If you are planning on selling your home, you obviously want to get the best price possible for it. One way you can do this without breaking the bank is by giving your home a fresh coat of paint. Here's how to make your home attractive and appealing to as many buyers as possible.
Why painting your home before selling is a good idea
The exterior of your home is the prospective buyer's first impression so you want to make it a good one. If it is a good one, they will see your home as more valuable and therefore generally offer more for it. The more people that are interested in your home, the more competition and ultimately, the better price you will get for it. If your home has old or flaking paint, this can detract from the appeal and interest of your home. Paint is highly effectively at revamping a home without having to get a second mortgage to do so.
The key to adding value to your home through paint
You will only add proper value to your home using paint when you do the job properly. It is no secret that shoddy or messy paint finishes don't look good and this can detract appeal from your home and lower its overall value. If you are going to repaint your home before selling, it's worth hiring a professional. A lot of people take on a job of this size only to realise a few hours in how big it actually is. It is a physically demanding job that requires a substantial amount of preparation and involves working at a height if two-story. You need a lot of equipment and if you have chipping, flaking or bubbling paint, this will need to be sorted out and the area will need to be prepared properly first to ensure that the fresh layer goes on smooth and that it sticks as it should.
If you are wanting to sell quickly, you may not have enough time to paint your entire home yourself. Again, to achieve a flawless finish at a record pace, it's best to hire a professional painter. They have multiple Gold Coast painters usually working on the same job and they have top-of-the-line equipment and the necessary skills and expertise to be able to complete the job quickly.
Here are our top painting tips to help you achieve top dollar when repainting your property to sell
Go with favourable colour palettes rather than something different or out there
When you are painting your home to sell, it's important that you choose colours that will appeal to the masses rather than what you like. Choose colours that suit the era of your home and its style. Reserve bold colours for the finishing details such as the trims and fencing. Stick with neutral colours for the bulk of the house. Greys, whites and creams are all popular neutral colours. You can find tonnes of popular neutral colour combinations online for some inspiration or alternatively check out your neighbour's home for colours that you like.
Consider the size of the property
Apply lighter colours to your home to give the impression that it is larger if it's on the smaller side. If your home is big but sits on a small lot, use darker colours to make it appear smaller and more in portion with the block.
Don't forget the roof
If your roof colour is old and outdated, it is worth having it painted to give it a new lease on life. Many will go and paint their house but forget about the roof. For example, if you have a terracotta roof and you've painted the exterior of your home white, these don't match and it doesn't look as good as it could if you were to paint the roof too.
Don't be afraid of darker colours
Did you know that homes that are finished with darker colours such as charcoal and dark greys often attract higher sale prices? Don't be afraid to implement darker hues through your exterior paint. Just ensure that they tie in with the other colours you choose.
Less is more
A house's façade should ideally have no more than three different colours. The walls will make up the main colour, followed by a second colour for the garage doors, fencing, window frames and trims. If you choose to have a third colour, use it sparingly or as a feature such as the letterbox or front door.
Use high-quality painting equipment or a professional painter
The correct types of paints must be used for the job and the proper equipment. Using the wrong paint can be detrimental to the finish and it simply won't last as it should. If you use cheap brushes or roller, you can leave behind stroke marks and brush hairs or lint in your paint which can affect the finish. Once these have made their way into the paintwork, they can be time-consuming to remove. A professional painter will only use the highest quality equipment and paints to complete all their painting projects to produce the best results each and every time. Hiring a painter frees up your time to focus on other areas of the home you want to enhance before putting it on the market.
How much can painting your home add to your property?
A freshly painted property can give a home a renewed and more modern look making it more appealing to a wider audience. Many are surprised to learn that a professionally painted home can add up to 5% to the sale of the property. This is a significant amount of money and it makes painting a home well worth the initial investment.
Ready to present your home in the best light in preparation for sale?
We'd love to assist you in getting your house ready for sale! For professional guidance from knowledgeable interior and exterior painters on the Gold Coast, get in touch with us at MDC Specialists! A comprehensive and obligation-free quote can be given to you by our team of experienced, fully qualified painting contractors. To learn more about our services, including residential and commercial painting, check out our website.