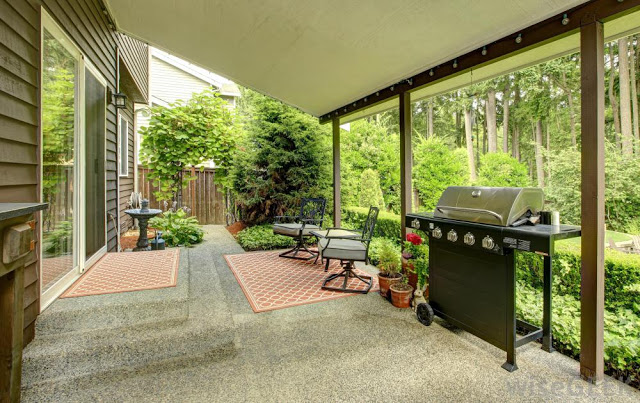 If you don't already know or new to the English language, the major differences between both a patio and a porch is in:
The area of a home where they are constructed
Their elevation
The materials used to build them
They are usually designed for quite the same kind of reasons, and are in many cases both have about the same size and shape. They both are, traditionally, built at the front and rear of people's homes, although but this is not always the case.
Back, Front
One of the main differentials between the patio and the porch, is that the porch is usually found at the front of someone's home and built around the front door area.
The patio is normally placed at the back of a home and connected (but this is not always the case) to the back door, all depending on the design of the home.
Sometimes, indeed,

Brisbane patios are built next to the side of a home

, whilst various others may not be attached to the home at all and be separate.
Word Etymology – Patio and Porch
The difference is also quite apparent in the names given for each place.
The word Patio comes from Spain and means "backyard", whilst the word "porch' comes to us from a Greek word which translates as "entrance."
And although these are the traditional meanings, there are still folks out there who wish to construct a patio-like platform in some place other than the backs of their homes, and vice versa!
There are some people who actually have porches built that go on to stretch all the way from the front door right around the home on the one or both sides.
Another Big Difference
One more difference among them is that a patio is in most cases constructed at ground level from bricks, concrete slabs, hardwood and/or tiles.
Porches, on the other hand, are frequently built with concrete or wood and are usually level with the front of the home, mean that it sits at ground level.
Porches were originally used for reasons of sitting or a gathering, whilst patios are in most cases a lot bigger and able to house a dining table or sitting space, for occasions such as eating under the stars, as in good old fashioned Aussie barbecues.
One is covered
In addition, yet one more difference between the two is that a porch is in nearly every single case always covered by a roof and patios mostly aren't.
Sometimes, and becoming more popular, you might see a covered porch that has been placed at the back of a house, and with a patio in addition.
Porches are often completely covered with windows and/or screening so that they closely resemble another room on a home.
If you care to look around, you will see that both patios and porches are becoming more and more popular nowadays, so if you're interested in having one built, make sure to sue a builder that you can trust.