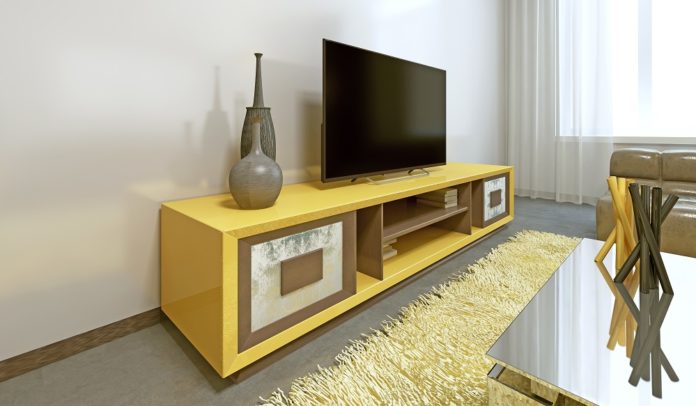 A new television or an old one, when complemented with a stylish TV unit can enhance the appeal of your home's living room to new heights, and is an important piece of furniture to consider, for getting the best out of your home theater installation. The market has TV units available in different materials, such as glass units, metal units, and wood or timber TV units. With so many types to choose from it gets difficult to choose the right one for your home and TV. Each of these types has their own pros and cons, however, timber TV units are rapidly gaining popularity, today.
Timber includes woods, such as Oak, Jarrah, Blackwood, Mahogany, Walnut and many more. These woods are ideal for all types of furniture be it a wardrobe, sofas, beds, dining tables, and especially TV units. Their unique color, aroma and texture tend to be an appealing factor when used in furniture. In addition to this, there are many other benefits of timber TV units that you need to consider, before opting for a TV unit. These are discussed below, and are sure to motivate you to buy a timber TV unit.
The Multiple Benefits of a Timber TV Unit
If you opt for a timber TV unit for your home, you can look forward to the following benefits provided by it:
Durability:  Timber is known to be strong and durable, and investing in a timber TV unit is certainly a long-term investment that you will cherish. Additionally, any minor scratches or other damages can be easily repaired without any hassle.
Traditional Look: Using timber, you can be assured of getting a natural and rustic look to your home or even your office. It is unique and is one of the most popular choices for home owners and office owners alike. A timber TV unit will give your living space a traditional feel, and is the right choice if you already have wooden furniture in your living room.
Wide Range to Choose Form: The flexibility or wide range of choices of timber gives you the freedom of design and style. You can get the timber TV unit hand carved and made in accordance to your requirements from manufacturers who specialize in the making of timber furniture. Alternately, you can purchase one that is ready made from the market, and that offers a variety of timber choices. You can choose from beech, cherry, light oak, dark oak, black stained oak, Sahara and wedge wood.
The finish on the timber TV unit could be of your choice, and can be based on the interior design of your home. Make sure to use timber that doesn't absorbs water, and taking time to ensure this can help you in the long run. Also, sound absorption is another factor to consider when choosing the type of timber.
Practical Functionality: A timber TV unit can blend well with other furniture, be it metal or plastic. You can think of buying just one unit initially and then decide later if you would like all your furniture made of timber or not. They are resistant to insects and termites, and this important benefit can help save the owner from uncalled problems. This quality also tends to increase the life span of the unit, making it a preferred choice for many.
When you opt for timber furniture, temperature of your room is controlled too. This may sound weird, but the fact is that wood doesn't absorb heat or cold in harsh weather conditions, thereby maintaining the room temperature to a moderate level. This is another reason why many prefer wood over metal or plastic.
Purchase Your Timber TV Unit Today!
There are multiple online stores offering timber TV units. You can shop online from the comfort of your home with just a few clicks, or visit the market if you would like to see the product with your own eyes before purchasing it. Ensure that you have a set budget, and decide whether you want to go for a readymade or a customized one.
Compare the prices and read the reviews of the shortlisted timber TV unit, and do your research well before opting for one, to make the best of your long-term investment.