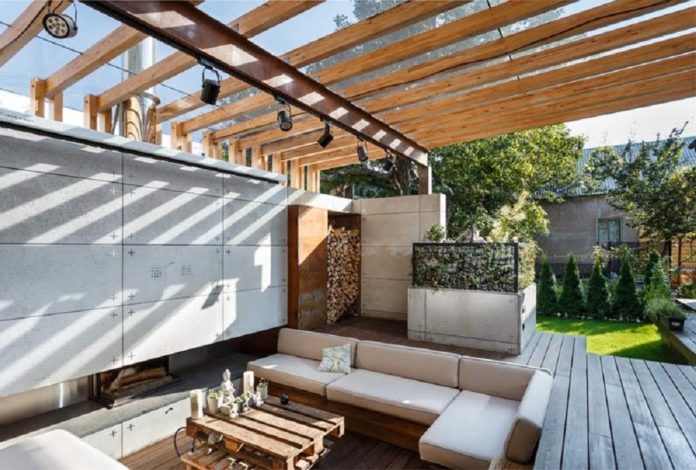 If you have enough space in your backyard and would like to use it as often as possible and enjoy with your family and friends, you must have already considered various options. Perhaps you are not sure what kind of function should your outdoor lounge serve or don't know how to achieve what you want with the budget available?
Let's take a look at some ideas and tips that you might find useful when planning to create a comfortable and functional oasis in your backyard.
Bistro table
A popular choice among those who enjoy having a cup of tea or coffee in the morning with one more person. The fact that you can now choose among so many different designs and materials means you can achieve the desired effect in no time at all.
Sectional
If you have enough space in your backyard to introduce an outdoor sectional, you'll be able to host a large party of friends and family members. An addition of a few extra chairs and a coffee table will turn the whole place into a more inviting space. Bearing in mind their traditional shape, you can fit them in the corner or against the fence. Decorative cushions only add to the overall appeal.
Hammock
More and more people are interested in having a hammock in their backyard, since it's a very easy way to create a spot where you can take a nap in the afternoon, read a good book or curl up with your loved one in hot summer evenings. Although having two trees to tie a hammock to is ideal, because the trees also provide shade, you can also buy a hammock which comes with its own stand.
Loveseat
Another great option for romantic moments with your special someone, a loveseat provides the cosiness you need in order to make the most of those great moments. If you pair up a couple of love seats and add a nice coffee table to the mix, you'll be able to create a special nook which wouldn't take up too much of space.
Chaise lounge
Those lucky ones who have a pool in their backyard could add a few chaise lounges along the side, to help them make the most out of the time spent outside. Adding a quality waterproof shade sail makes the experience even more enjoyable and allows you to use your backyard even when the sun is high and blazing.
Swing
Don't think that swings are only for kids! You can actually have a swing installed on your porch or elsewhere to help you enjoy lazy afternoons and evenings, either watching your kids play in the yard or reading a book. Since there are many different designs and materials used for swings nowadays, it shouldn't be very difficult to find one which would meet all your demands.
Dining table
One of the best features you can have in your backyard is definitely a big dining table, which would make it possible for you to organize bigger parties and celebrations. Generally speaking, people prefer being outside when they visit someone, unless the weather is horrible. That's why a dining table with an umbrella or gazebo overhead is an excellent idea for all those sociable ones among you.
Outdoor bed
If you live in an area where you get a lot of sunshine and beautiful weather, you should think about introducing an outdoor bed to your backyard. That would make it possible to lay down and enjoy a nice, cool drink with a book during those lazy summer afternoons. You just need to be sure you're using appropriate outdoor cushions. If you can place your bed somewhere private, where you can get more shade from a tree, you're running a risk of other members of your family taking it over and turning it into their favourite spot.
There are so many things you can do when it comes to creating a truly amazing outdoor space for you and your family, that only the size of your backyard and your budget can be obstacles on the road to creating a fabulous place. The secret is, as usual, in knowing how to make the most with what you have.